Abstract
A continuum model for dielectric elastomers is proposed on the basis of a micromorphic theory of electroelasticity. A biaxial microstretch deformation is considered to describe macrostretch and electric polarization due to applied mechanical loads and electric fields. A statistical isotropic condition is exploited to express the dependence of strain tensors on microstretch, and the equilibrium balance laws are given for micro- and macrodeformation and the electric potential. A one-dimensional problem is formulated to model a layer of dielectric elastomer subject to electric potential and mechanical traction. Some numerical results are obtained, which show consistence with the expected electroelastic physical behavior of such structures.
This is a preview of subscription content, log in to check access.
Access options
Buy single article
Instant access to the full article PDF.
US$ 39.95
Price includes VAT for USA
Subscribe to journal
Immediate online access to all issues from 2019. Subscription will auto renew annually.
US$ 99
This is the net price. Taxes to be calculated in checkout.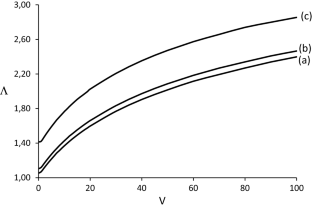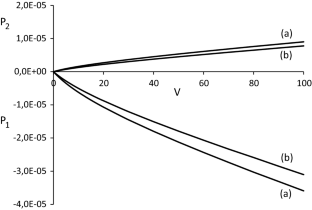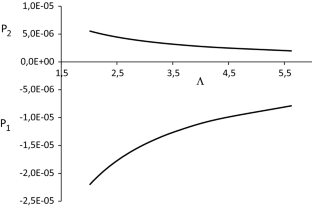 References
1.

Dorfmann, L., Ogden, R.W.: Nonlinear electroelasticity. Acta Mech. 174, 167–183 (2005)

2.

Jimenez, S.M.A., McMeeking, R.M.: Deformation dependent dielectric permittivity and its effects on actuator performance and stability. Int. J. Nonlinear Mech. 57, 183–191 (2013)

3.

Dorfmann, L., Ogden, R.W.: Nonlinear electroelasticity: material properties, continuum theory and applications. Proc. R. Soc. A 473, 20170311 (2017)

4.

Cohen, N., deBotton, G.: The electromechanical response of polymer networks with long-chain molecules. Math. Mech. Solids 20, 721–728 (2014)

5.

Cohen, N., Dayal, K., deBotton, G.: Electroelasticity of polymer networks. J. Mech. Phys. Solids 92, 105–126 (2016)

6.

Itskov, M., Khiêm, V., Waluyo, S.: Electroelasticity of dielectric elastomers based on molecular chain statistics. Math. Mech. Solids 24, 862–873 (2019)

7.

Eringen, A.C.: Microcontinuum Field Theories I—Foundations and Solids. Springer, New York (1999)

8.

Romeo, M.: Micromorphic continuum model for electromagnetoelastic solids. Z.A.M.P. 62, 513–527 (2011)

9.

Romeo, M.: A microstructure continuum approach to electromagneto-elastic conductors. Contin. Mech. Thermodyn. 28, 1807–1820 (2016)

10.

Romeo, M.: Polarization in dielectrics modeled as micromorphic continua. Z.A.M.P. 66, 1233–1247 (2015)

11.

Romeo, M.: A microstretch description of electroelastic solids with application to plane waves. Math. Mech. Solids 24, 2181–2196 (2019)

12.

Romeo, M.: A variational formulation for electroelasticity of microcontinua. Math. Mech. Solids 20, 1234–1250 (2015)

13.

Chen, Y., Lee, J.D.: Determining material constants in micromorphic theory through phonon dispersion relations. Int. J. Eng. Sci. 41, 871–886 (2003)

14.

Villanueva-García, M., Robles, J., Martínez-Richa, A.: Quadrupolar moment calculations and mesomorphic character of model dimeric liquid crystals. Comput. Mater. Sci. 22, 300–308 (2001)

15.

Schlögl, T., Leyendecker, S.: A polarization based approach to model the strain dependent permittivity of dielectric elastomers. Sens. Actuators A 267, 156–163 (2017)

16.

Zhao, X., Hong, W., Suo, Z.: Electromechanical hysteresis and coexistent states in dielectric elastomers. Phys. Rev. B 76, 134113 (2007)

17.

Zhao, X., Suo, Z.: Electrostriction in elastic dielectrics undergoing large deformations. J. Appl. Phys. 104, 123530 (2008)

18.

Wissler, M., Mazza, E.: Electromechanical coupling in dielectric elastomer actuators. Sens. Actuators A 138, 384–393 (2007)

19.

Li, B., et al.: Effects of mechanical pre-stretch on the stabilization of dielectric elastomer actuation. J. Phys. D Appl. Phys. 44, 155301 (2011)
Additional information
Publisher's Note
Springer Nature remains neutral with regard to jurisdictional claims in published maps and institutional affiliations.
About this article
Cite this article
Romeo, M. A microstretch continuum approach to model dielectric elastomers. Z. Angew. Math. Phys. 71, 44 (2020). https://doi.org/10.1007/s00033-020-1266-0
Mathematics Subject Classification
Keywords
Electroelasticity

Biaxial microstretch

Dielectric elastomers