Abstract
The increased temperature and humidity in the atmosphere under global warming is the primary cause of the upsurge of heat waves in the tropical belt. The central east coast of India (CECI; Odisha, Andhra Pradesh, and Telangana) is one of the most heavily affected areas in terms of casualties due to heat waves during pre-monsoon (March–May; MAM). Thus, there is a need to analyze the characteristics of pre-monsoon weekly maximum temperature (Tmax) and associated heat waves over the CECI. In the present study, characteristics of weekly Tmax from 23 March to 31 May over the CECI associated with heat waves have been analyzed using the India Meteorological Department gridded (1º × 1º) analysis data set of daily maximum temperature for the period 1980–2015. The recent changes in the weekly Tmax and frequency of various heat-wave spells (1-, 2-, 3-, and 5-day) were also evaluated. The results suggest that the climatological weekly Tmax along the coastal region is less than that in the interior parts for all 10 weeks, and the inter-annual variability and coefficient of variation exhibit similar patterns. The continuous increase in Tmax and its variability is observed as the season progresses, leading to increased intensity and frequency of heat waves in most parts of the CECI. In the recent period, a notable increase in the weekly Tmax and its variability has been observed over most parts of the CECI that has resulted in more heat waves. This study is very beneficial for determining the effects on various sectors for the planning of adaptation methodologies through appropriate strategies for a tolerable future over the CECI in the context of global warming.
This is a preview of subscription content, log in to check access.
Access options
Buy single article
Instant access to the full article PDF.
US$ 39.95
Price includes VAT for USA
Subscribe to journal
Immediate online access to all issues from 2019. Subscription will auto renew annually.
US$ 199
This is the net price. Taxes to be calculated in checkout.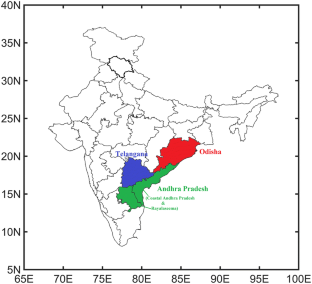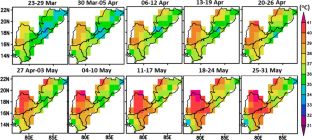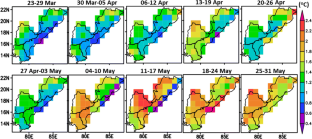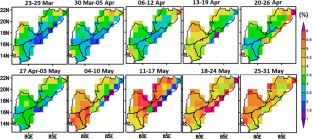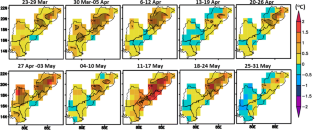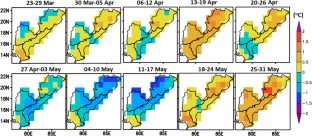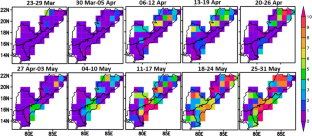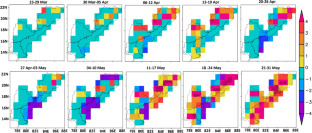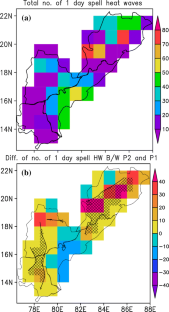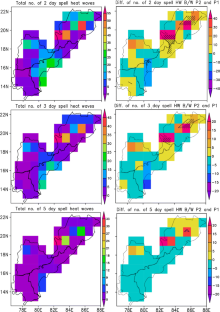 References
Allan, R. J. (2000). ENSO and climatic variability in the past 150 years. ENSO: Multiscale variability and global and regional impacts (pp. 3–55). Cambridge: Cambridge University Press.

Allan, R. J., & D'Arrigo, R. D. (1999). "Persistent" ENSO sequences: how unusual was the 1990–1995 El Niño? Holocene,9, 101–118.

Black, E., Blackburn, M., Harrison, G., Hoskins, B., & Methven, J. (2004). Factors contributing to the summer 2003 European heatwave. Weather,59(8), 217–223. https://doi.org/10.1256/wea.74.04.

Coumou, D., & Rahmstorf, S. (2012). A decade of weather extremes. Nature Climate Change,2, 491–496. https://doi.org/10.1038/NCLIMATE1452.

Deshpande, S. M., Kulkarni, J. R., Joshi, R. R., Singh, N., Damle, S. H., & Pant, G. B. (2007). Atmospheric subsidence and the surface temperature variability in the pre-monsoon month over a semi-arid north peninsular Indian station: a case study. Indian Journal of Radio & Space Physics,36, 33–43.

Easterling, D. R., Meehl, G. A., Parmesan, C., Changnon, S. A., Karl, T. R., & Mearns, L. O. (2000). Climate extremes: observations, modeling, and impacts. Science,289, 2068–2074. https://doi.org/10.1126/science.289.5487.2068.

Folland, C. K., Karl, T. R., & Ya, Vinnikov K. (1990). Observed climate variations and change. In J. T. Houghton, G. J. Jenkins, & J. J. Ephraums (Eds.), Climate change: the IPCC scientific assessment (pp. 195–238). Cambridge: Cambridge University Press.

Gavin, A. S., Drew, T. S., & Kostas, T. (2014). Reconciling warming trends. Nature Geoscience,7, 158–160. https://doi.org/10.1038/ngeo2105.

Guleria, S., & Gupta, A. K. (2018). Heat wave in India documentation of state of Telangana and Odisha (2016) (p. 124). New Delhi: National Institute of Disaster Management. ISBN 978-93-82571-24-7.

IPCC (2014). Climate change 2014: synthesis report. contribution of working groups I, II and III to the fifth assessment report of the Intergovernmental Panel on Climate Change [core writing team, R.K. Pachauri and L.A. Meyer (Eds.)] (pp. 151). Geneva, Switzerland: IPCC.

Jones, P. D., & Briffa, K. R. (1992). Global surface temperature variation during twentieth century. Part 1, spatial, temporal and seasonal details. The Holocene. https://doi.org/10.1177/095968369200200208.

Larsen, J. (2003). Record heat wave in Europe takes 35,000 lives. Earth policy institute. http://www.earth-policy.org. Accessed 9 Oct 2003.

Meehl, G. A., & Tebaldi, C. (2004). More intense, more frequent, and longer lasting heat waves in the 21st century. Science,305, 994–997. https://doi.org/10.1126/science.1098704.

Oldenborgh, G. J. V., Philip, S., Kew, S., Weele, M. V., Uhe, P., Otto, F., et al. (2018). Extreme heat in India and anthropogenic climate change. Natural Hazards and Earth Systems Sciences,18, 365–381. https://doi.org/10.5194/nhess-18-365-2018.

Oliver, E. C., Donat, M. G., Burrows, M. T., Moore, P. J., Smale, D. A., Alexander, L. V., et al. (2018). Longer and more frequent marine heatwaves over the past century. Nature Communications,9, 1324. https://doi.org/10.1038/s41467-018-03732-9.

Pai, D. S., Anil, Nair Smitha, & Ramanathan, A. N. (2013). Long term climatology and trends of heat waves over India during the recent 50 years (1961–2010). Mausam,64, 585–604.

Pattanaik, D. R., Mohapatra, M., Srivastava, A. K., & Kumar, Arun. (2017). Heat wave over India during summer 2015: an assessment of real time extended range forecast. Meteorology and Atmospheric Physics,129, 375–393. https://doi.org/10.1007/s00703-016-0469-6.

Perkins, S. E., Alexander, L. V., & Nairn, J. R. (2012). Increasing frequency, intensity and duration of observed global heat waves and warm spells. Geophysical Research Letters,39, L20714. https://doi.org/10.1029/2012GL053361.

Raji Reddy, D., & Sreenivas, G. (2016). Climate change impact on agriculture in India. International Journal of Economic Plants,3(1), 23–26.

Rao VUM (2012). Impacts of climate change on Indian agriculture. http://www.cseindia.org/userfiles/VUM-CSE-Delhi-16-11-12.pdf. Accessed 6 July 2015.

Rasmusson, E. M., & Carpenter, T. H. (1983). The relationship between eastern equatorial Pacific sea surface temperatures and rainfall over India and Sri Lanka. Monthly Weather Review,111, 517–528.

Ratnam, J. V., Swadhin, K. Behera, Satyaban, B. Ratna, Rajeevan, M., & Yamagata, T. (2016). Anatomy of Indian heatwaves. Scientific Reports,6, 24395. https://doi.org/10.1038/srep24395.

Rohini, P., Rajeevan, M., & Srivastava, A. K. (2016). On the variability and increasing trends of heat waves over India. Scientific Reports,6, 26153. https://doi.org/10.1038/srep26153.

Scheitlin, K. (2013). The maritime influence on diurnal temperature range in the Chesapeake Bay area. Earth Interact,17(21), 1–14. https://doi.org/10.1175/2013EI000546.1.

Schneidereit, A., Schubert, S., Vargin, P., Lunkeit, Frank, Zhu, Xiuhua, Peters, Dieter H. W., et al. (2012). Large-scale flow and the long-lasting blocking high over Russia: summer 2010. Monthly Weather Review,140(9), 2967–2981. https://doi.org/10.1175/MWR-D-11-00249.1.

Singh, C., & Kumar, S. V. J. (2018). Meteorological conditions for development of heat wave over coastal Andhra Pradesh and Telangana. The Journal of Indian Geophysical Union,3, 349–358.

Srivastava, A. K., Rajeevan, M., & Kshirsagar, S. R. (2009). Development of a high resolution daily gridded temperature data set (1969–2005) for the Indian region. Atmospheric Science Letters,10(4), 249–254. https://doi.org/10.1002/asl.232.

Trenberth, K., Fasullo, J. T., Branstator, Grant, & Phillips, Adam S. (2014). Seasonal aspects of the recent pause in surface warming. Nature Climate Change,4, 911–916. https://doi.org/10.1038/nclimate2341.

WMO (2012). WMO statement on the status of the global climate in 2011. WMO No. 1085, Geneva: World Meteorological Organization.
Acknowledgements
This research is an outcome of the project entitled "Development and Application of Extended Range Forecast System for Climate Risk Management in Agriculture Phase–II" sponsored by the Department of Agriculture, Cooperation, and Farmers Welfare (DAC&FW), Government of India. The authors gratefully acknowledge the India Meteorological Department (IMD) for providing the gridded surface maximum temperature analysis data set. The authors are thankful to Mr. M.C. Sannan, School of Earth, Ocean and Climate Sciences, Indian Institute of Technology (IIT) Bhubaneswar for providing his support for this study. We are very much thankful to the anonymous reviewers for providing valuable suggestions and comments which helped to improve the quality of the manuscript.
Additional information
Publisher's Note
Springer Nature remains neutral with regard to jurisdictional claims in published maps and institutional affiliations.
About this article
Cite this article
Nageswararao, M.M., Sinha, P., Mohanty, U.C. et al. Occurrence of More Heat Waves Over the Central East Coast of India in the Recent Warming Era. Pure Appl. Geophys. 177, 1143–1155 (2020). https://doi.org/10.1007/s00024-019-02304-2
Received:

Revised:

Accepted:

Published:

Issue Date:
Keywords
Heat waves

pre-monsoon

maximum temperature

climate change

central east coast of India