Comprehensive review on how platinum- and taxane-based chemotherapy of ovarian cancer affects biology of normal cells
Abstract
One of the most neglected aspects of chemotherapy are changes, and possible consequences of these changes, that occur in normal somatic cells. In this review, we summarize effects of selected drugs used to treat ovarian cancer (platin derivatives—cisplatin and carboplatin; and taxanes—paclitaxel and docetaxel) on cellular metabolism, acquisition of reactive stroma features, cellular senescence, inflammatory reactions, apoptosis, autophagy, mitophagy, oxidative stress, DNA damage, and angiogenesis in various types of normal cells, including fibroblasts, epithelial cells, endothelial cells, and neurons. The activity of these drugs against the normal cells is presented from a broader perspective of their desirable anti-tumoral effects.
Keywords
Chemotherapy 
Ovarian cancer 
Platin analogs 
Side effects 
Taxanes 
Introduction
Oncologic patients treated with drugs of various groups exhibit side effects of varying severity, mostly attributed to the deleterious activity on normal cells lying nearby or in some distance from cancerous tissue. These side effects are usually considered from a macro perspective in which the presence of complications itself is more important from the clinical point of view than their triggers and mechanisms [1]. Even in a basic science concentrated around an anti-cancer therapy, effects of drugs or drug candidates are studied predominantly on malignant cells, whereas their simultaneous activity towards normal cells is usually omitted. There are only sparse reports in which possible drug candidates suggested as effective against cancer [2] are investigated in the presence of normal cells, which often provides data about their negative influence [3].
During the research for this review, we noticed that the available literature is extremely poor in reports dealing with effects of common chemotherapeutics at the level of normal cells. This finding encouraged us to collect and discuss the current state-of-the-art regarding alterations in the biology of normal cells subjected experimentally to drugs commonly used in chemotherapy. As an example, we arbitrarily selected pharmacological management of ovarian cancer, choosing to investigate the activity of two platin derivatives, cisplatin and carboplatin, and two taxanes, paclitaxel and docetaxel [4].
Ovarian cancer and current algorithms of its chemotherapy
Ovarian cancer is the most lethal malignancy of female genital tract. The pharmacology of ovarian cancer depends on a stage of the disease (according to criteria provided by International Federation of Gynaecological Oncology, FIGO) and includes cytoreductive surgery and chemotherapy. When the cancer is diagnosed early, that is in FIGO stage I or II, the optimal cure is surgical tumor debulking without adjuvant chemotherapy after which the 5-year survival rate is around 90%. Patients with advanced disease (FIGO stage III or IV) are recommended to undergo maximal surgical cytoreduction followed by a systemic chemotherapy. This treatment should guarantee the 5-year survival rate for up to 30% of patients. Chemotherapy is also a necessity in patients with a recurrent disease [5].
Initially, chemotherapy of epithelial ovarian cancer was based on the platinum derivative, cisplatin or, later, on its less toxic analog—carboplatin [6]. The discovery of high activity of paclitaxel (Taxol®), an active component of tree Taxus brevifolia, against ovarian cancer has changed initial recommendations regarding the first-line therapy and made three cycles of the combination of carboplatin with paclitaxel the most optimal setting ("golden standard") in the treatment of epithelial ovarian cancer [7]. In recent years, some trials have been conducted to reduce some aspects of paclitaxel toxicity (e.g. alopecia and neurotoxicity) and other taxanes combined with carboplatin, in particular, semisynthetic docetaxel, were tested. Results of these trials provided evidence that the combination of carboplatin with docetaxel may be used in patients with high risk of neurotoxicity (at the cost of more myelosuppression), but in remaining patients carboplatin combined with paclitaxel should still be treated as the primary cure [8].
Because the effectiveness of systemic chemotherapy of ovarian cancer is far from satisfactory, several attempts have been made to establish an adequate route of a drug administration. Clinicians' attention was then focused on the intraperitoneal route which seemed to be more appropriate from the standpoint of anatomical determinants of both primary and metastatic ovarian tumors. At the same time, this route should increase dose intensity delivered to any residual tumor, avoiding additional systemic toxicity. It should be noted, however, that drugs delivered locally display lower penetrability deep into tissue stroma, therefore, it should provide benefits exclusively to patients who have undergone optimal cytoreductive surgery. Indeed, numerous trials revealed clinical benefits when drugs were administrated i.p. instead of i.v., however, often at the cost of increased frequency of hematologic or non-hematologic side effects. Currently, the i.p. chemotherapy is considered an alternative choice concerning the classic i.v. route, albeit the latter is still preferred and a debate about the choice of the drug administration route continues [9].
Mechanisms of anti-cancer activity of platinum derivatives and taxanes
Cisplatin and carboplatin
Cisplatin (
cis
-diamminedichloroplatinum(II)) is currently one of the most compelling drugs used in cancer chemotherapy (Table 
1
). Once cisplatin enters a cell, the chloride atoms on the drug are displaced by water molecules, and the hydrolyzed product is capable of reacting with any nucleophile, such as the sulfhydryl groups on proteins and nitrogen donor atoms on nucleic acids. Cisplatin connects to the N7 reactive center on purine bases, which elicits DNA injury that blocks replicative machinery and directs cancer cells towards apoptosis. The spectrum of chemical changes induced by cisplatin within DNA is wide, however, the most prominent is the formation of the 1,2-intrastrand [d(GpG) and d(ApG)] adducts of purines. It has been found that cisplatin may induce DNA damage and cancer cell death also by induction of oxidative stress, particularly the overproduction of mitochondrial reactive oxygen species (ROS) and by decreasing the pool of intracellular antioxidants, e.g. reduced glutathione (GSH). Among signaling molecules and pathways activated in response to cisplatin and involved in the drug-related cytotoxicity, the most important include: p53, extracellular-signal-regulated kinase (ERK), and c-Jun N-terminal kinase (JNK) [
10
] (Fig. 
1
).
Table 1
Types of malignancies treated with platinum derivatives and taxanes
Group

Drug

Cancer

References

Platinum analogs

Cisplatin

Bladder

Cervical

Ovarian

Gastric

Head and neck

Testicles

Breast

Esophageal

Carboplatin

Lung

Ovarian

Head and neck

Cervical

Breast

Bladder

Testicles

Esophageal

Taxanes

Paclitaxel

Breast

Ovarian

Lung

Esophageal

Head and neck

Bladder

Testicles

Gastric

Cervical

Docetaxel

Ovarian

Breast

Lung

Prostate

Head and neck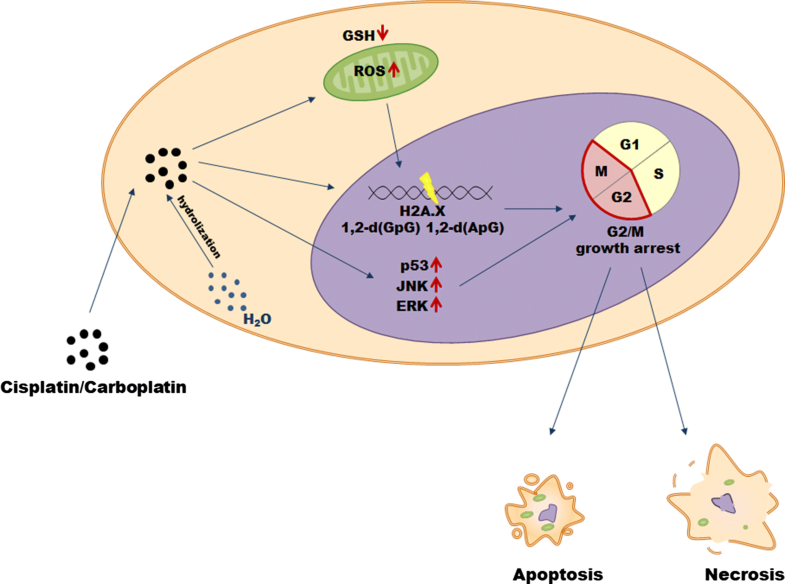 Although approximately 3000 platinum analogs have been synthesized and 13 of them underwent clinical trials, only one of them—carboplatin (1,1-cyclobutyldicarboxylate)—has proved a clinical advantage over cisplatin and thus gained widespread acceptance [20]. Once it penetrates the cell membrane, carboplatin is subjected to hydrolysis becoming positively charged. Similar to cisplatin, it covalently binds to the N7 site of purine bases forming monoadducts or intra and interchain diadducts. The presence of these modifications interferes with cell replication (G2/M growth arrest), leading to cancer cell elimination through apoptosis or necrosis [21].
Paclitaxel and docetaxel
The primary mode of paclitaxel's action is the hyperstabilization of microtubules—the component of the cytoskeleton composed of repeating subunits of α- tubulin and β-tubulin critical for several cellular behaviors, including: regulation of cell shape, vesicle transport, transcription factor trafficking, mitochondrial metabolism, and the separation of chromosomes during mitosis (Fig. 
2
). Mechanistically, paclitaxel binds to the N-terminal 31 amino acids of the β-tubulin subunit and decreases the threshold concentration of purified tubulin subunits which are necessary for polymerization into microtubules in vitro and elevates the fraction of tubulin subunits that assemble. Also, paclitaxel interacts directly with microtubules stabilizing them against depolymerization by cold and calcium. As a result, cancer cells treated with the drug are growth arrested in metaphase on bipolar spindles. The effectory role in this process is played by the activation of spindle assembly checkpoint which prevents the progression of cell cycle, in particular, the separation of the chromosomes due to the presence of kinetochores that do not display a solid attachment to microtubules. Cell fates upon the treatment with paclitaxel may be, however, different. One scenario assumes cell death in the course of mitosis while another includes an exit from mitosis without proper chromosome segregation (the so-called mitotic slippage) leading to the formation of a tetraploid G1 cell. As a result of the slippage, the cells may die, remain growth arrested, or undergo further divisions. Mechanisms determining the outcome need still to be explored [
22
].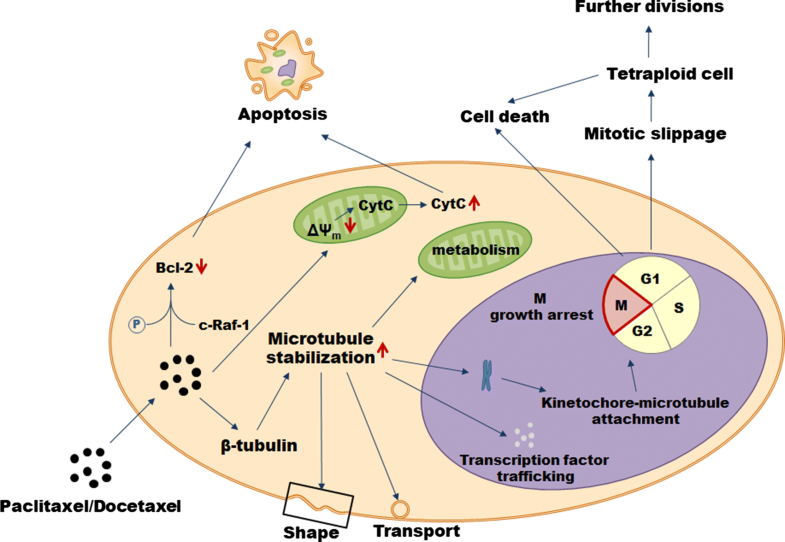 One of the best-recognized ways of cancer cell elimination upon the treatment with paclitaxel is apoptosis proceeding in the mitochondria-related mechanism. Cancer cells subjected to the drug are characterized by decreased inner mitochondrial membrane potential (ΔΨm) which leads to the opening of permeability transition pore channel and the release of cytochrome c and apoptosis-inducing factor. Eventually, apoptotic death is executed by the activated effectory caspases [23]. Some role in directing cancer cells towards apoptosis is also played by the ability of paclitaxel to phosphorylate and inactivate the anti-apoptotic protein Bcl-2 in a trait related to c-Raf-1 proto-oncogene [24] or, alternatively, via a direct effect on mitochondria [25].
When it comes to docetaxel, its mode of anti-cancer activity is very similar to that of paclitaxel, although it differs structurally from the former at either the 3′ position on the side chain or the 10′ position on the baccatin ring [26]. Specifically, docetaxel also targets microtubules affecting the β-tubulin, however, experiments based on site-directed mutagenesis revealed that the molecular nature of these interactions is slightly different [27]. At the same time, docetaxel has been found to be twice as active in microtubule depolymerization inhibition as paclitaxel [28]. Both paclitaxel and docetaxel are routinely used to treat significant number of tumors (Table 1).
Biology of normal cells upon treatment with platinum derivatives and taxanes
Both the analogs of platinum and taxanes used in the management of ovarian cancer are known to cause several systemic and local side effects and complications. Drug resistance leading to an insufficient response to a therapy is also common in ovarian cancer patients and often leads to the disease recurrence [29]. In our opinion, it is reasonable to think that issues mentioned above may be associated in a significant degree with deleterious effects of chemotherapeutics on normal, non-cancerous cells and tissues [30].
The most common, irrespective of drug administration route (i.v./i.p) complications of ovarian cancer treatment include: leucopenia, thrombocytopenia, fatigue, nausea, vomiting, diarrhea, hearing loss, nephrotoxicity, neurotoxicity, ototoxicity, gonadotoxicity, and hypersensitivity reactions. Clinical observations also indicate that a group of complications is directly associated with the specificity of intraperitoneal drug delivery, and these include abdominal pain, peritonitis, chills, and catheter migration [31]. The probability and severity of side effects depend on a patient response to a treatment and the therapy regimen used [32].
Currently, the above mentioned adverse results of chemotherapy are well described from a clinical perspective, but at the same time, the knowledge about their biological (cellular and molecular) mechanisms is lagging. Next sections of this review are devoted to processes which occur in various populations of normal somatic cells in response to platinum analogs and taxanes, and which may contribute in our opinion to the side effects of cancer chemotherapy, as well as to a therapeutic failure and/or paradoxical exacerbated progression of the disease. The most important information provided in this section have additionally been summarized in Tables 
2
and
3
.
Table 2
Biological effects of platinum derivatives on normal cells
Activity

Mechanism

Cell type

Drug

Catabolic metabolism

Increased consumption of glucose and generation of lactic acid

Fibroblasts

CIS; CAR

Induction of autophagy

Tubular epithelial cells

CIS

Drug resistance

Increased expression of anti-apoptotic proteins in cancer cells related to increased production of IL-11 by fibroblasts

Skin fibroblasts

CIS

Accumulation of drugs in normal cells instead of cancer cells

Skin fibroblasts

CIS

Induction of cellular senescence

Up-regulation of cell cycle inhibitors; deterioration of cell–cell communication; Induction of SA-β-Gal

Skin fibroblasts

CIS; CAR

Induction of pro-inflammatory phenotype

Activation of NF-κB-dependent inflammatory response

Proximal tubule epithelial cells

CIS

Overproduction of IL-1 and IL-6

Umbilical vein endothelial cells

CIS; CAR

Overproduction of ICAM-1 and IL-8

Retinal endothelial cells

CAR

Overproduction of ICAM-1 and ELAM-1

Dermal endothelial cells

CAR

Induction of cell death

Dysfunction of mitochondria; activation of caspases

Renal epithelial cells; endothelial cells

CIS

Induction of oxidative stress

Increased production of ROS; decreased activity of antioxidants; deregulation of mitochondrial metabolism

Renal proximal tubule epithelial cells

CIS

Increased DNA damage

Hippocampal neurons

CIS

Increased DNA damage

Fibroblasts; Schwann cells

CAR

Modulation of angiogenesis

Impaired MMP-2-related reactions of vascular endothelium

Endothelial cells

CIS

Increased production of VEGF

Endothelial cells

CAR
Table 3
Biological effects of taxanes on normal cells
Activity

Mechanism

Cell type

Drug

Catabolic metabolism

Increased consumption of glucose and increased production of lactic acid

Skin fibroblasts

PAC

Initiation of autophagy

Aortic endothelial cells

PAC

Inhibition of autophagy

Smooth muscle cells

DOC

Induction of reactive stroma phenotype

Transdifferentiation towards myofibroblasts

Skin fibroblasts

PAC

Inhibition of reactive stroma phenotype

Reduced expression of CAFs' markers

Renal fibroblasts

PAC

Anti-cancer activity

Induction of cancer cell apoptosis

Lung fibroblasts

PAC

Pro-cancerous activity

Increased adhesion, invasion and proliferation of cancer cells

Breast cancer-associated fibroblasts

DOC

Inhibition of pro-fibrotic effects

Decreased incidence of TGF-β1-dependent development of EMT

Peritoneal mesothelial cells

PAC

Decreased production of collagen

Gallbladder epithelial cells

PAC

Induction of cellular senescence

Increased expression of SA-β-Gal

Vascular endothelial cells

PAC

The development of SASP

Skin fibroblasts

PAC

Induction of pro-inflammatory phenotype

Intensification of COX-2-related reactions

Endothelial cells

PAC

Overproduction of IL-6

Skin fibroblasts

PAC

Induction of NF-κB

Prostate fibroblasts

DOC

Induction of cell death

Induction of p53-dependent apoptosis

Aortic endothelial cells

PAC

Activation of caspases

Umbilical vein endothelial cells

DOC

Induction of oxidative stress

Increased formation of ROS; Down-regulation of antioxidative enzymes

Fibroblasts; endothelial cells

PAC; DOC

Modulation of angiogenesis

Inhibition of angiogenic reactions of vascular endothelium

Endothelial cells

PAC; DOC

Stimulation of VEGF release

Umbilical vein endothelial cells

PAC
Strategies to restrict the risk of a chemotherapy-induced toxicity
The increasing knowledge about undesirable effects associated with the use of platinum- and taxane-based chemotherapy towards normal cells and tissues prompted oncologists to develop certain strategies to aimed at minimalizing negative outcomes of the therapy. Probably the most advanced research, based on experiments on laboratory animals and various clinical trials, concerns platinum-induced nephrotoxicity. In this regard, candidate adjuvants include synthetic antioxidants (vitamins C and E, AT1R blocker—losartan, erythropoietin, alpha lipoic acid, N-acetylcysteine, deferoxamine, glutamine), mineral elements (magnesium, selenium, chloride salts, sodium thiosulfate) or a combination of both (CV247—an aqueous mixture of copper gluconate, manganese gluconate, vitamin C, and sodium salicylate) [132]. As per second, common group of side effects related to the use of platinum-based therapy, that is neurotoxicity, preventive strategies include detoxicants (amifostine, sodium thiosulfate), nerve growth factor stimulants (Org 2766, retinoic acid), antioxidants (vitamin E, reduced glutathione), electrolytes, chelators, and ion channel modulators (calcium, magnesium, carbamazepine, oxcarbazepine, nimodipine) [133]. In turn, the prevention of neurotoxicity in patients treated with taxanes has been tested using melatonin, amifostine, antiepileptic agents (gabapentin, pregabalin), corticosteroids (prednisone) and a herbal compound, Shakuyaku-kanzo-to [134]. On the other hand, despite promising findings coming from numerous trials, there are no well-established algorithms of side effect prevention of platinum- and taxane-based chemotherapy in a daily, clinical practice. The problem stems mainly from inconclusive results of clinical tests, often associated with different patients' responses due to defined (e.g. age, treatment regimen, stage of a disease, cancer histotype) or undefined (genetics?) individual variables. The issue of an effective prevention of the drug-induced cytotoxicity in oncologic patients is, however, highly appreciated and there is an ongoing search for the best patient-oriented solutions.
Conclusions and perspectives
It is obvious that the number of projects and publications dealing with the effects of platinum-based drugs and taxanes on normal cells is incomparably smaller compared with articles in which anti-cancer activity of these drugs was presented. To some extent, one may understand this disparity because it is determined by the clinical imperative to combat cancer cells as fast and efficiently as possible. On the other hand, last decades provided mounting evidence that deep insight into effects of the chemotherapeutics on normal cells may provide a much wider picture of the biological activity of these drugs. Majority of reports suggests in this regard that normal functioning of non-cancerous cells is then seriously impaired. Significantly, several of these changes in cells' metabolism and function are clearly procancerous, which sheds new light on pathomechanisms of side effects' development and therapeutic failures. Such the knowledge also means that further investigations of new classes of drugs, aimed at new molecular targets are an urgent need. At the same time, direct comparative studies of effects exerted by these candidates on cancer and normal cells are highly advisable using both in vitro and in vivo models.
Notes
Acknowledgements
Authors of the study are supported by a grant from the National Science Centre, Poland (Registration number 2017/25/B/NZ3/00122) and a grant "Young Investigators" from the Poznań University of Medical Sciences (Registration number 502-14-02203310-10597).
Compliance with ethical standards
Conflict of interest
The authors declare no conflict of interest.
Copyright information
© The Author(s) 2018
Open AccessThis article is distributed under the terms of the Creative Commons Attribution 4.0 International License (http://creativecommons.org/licenses/by/4.0/), which permits unrestricted use, distribution, and reproduction in any medium, provided you give appropriate credit to the original author(s) and the source, provide a link to the Creative Commons license, and indicate if changes were made.