Stem cells under the influence of alcohol: effects of ethanol consumption on stem/progenitor cells
Abstract
Stem cells drive embryonic and fetal development. In several adult tissues, they retain the ability to self-renew and differentiate into a variety of specialized cells, thus contributing to tissue homeostasis and repair throughout life span. Alcohol consumption is associated with an increased risk for several diseases and conditions. Growing and developing tissues are particularly vulnerable to alcohol's influence, suggesting that stem- and progenitor-cell function could be affected. Accordingly, recent studies have revealed the possible relevance of alcohol exposure in impairing stem-cell properties, consequently affecting organ development and injury response in different tissues. Here, we review the main studies describing the effects of alcohol on different types of progenitor/stem cells including neuronal, hepatic, intestinal and adventitial progenitor cells, bone-marrow-derived stromal cell, dental pulp, embryonic and hematopoietic stem cells, and tumor-initiating cells. A better understanding of the nature of the cellular damage induced by chronic and episodic heavy (binge) drinking is critical for the improvement of current therapeutic strategies designed to treat patients suffering from alcohol-related disorders.
Keywords
Alcoholic beverages 
Mesenchymal stromal cells 
Alcohol-related disorders 
Fetal alcohol spectrum disorders 
Alcohol dehydrogenase 
Acetaldehyde 
ADH

Alcohol dehydrogenase

ALD

Alcoholic liver disease

ALDH

Acetaldehyde dehydrogenase

BM

Bone marrow

CYP2E1

Cytochrome P450 2E1

DG

Dentate gyrus

ESC

Embryonic stem cells

EV

Extracellular vesicles

FASD

Fetal alcohol spectrum disorders

HSC

Hematopoietic stem cells

MSC

Mesenchymal stromal cells

mTOR

Mammalian target of rapamycin

NADH

Nicotinamide adenine dinucleotide

NSC

Neural stem and progenitor cells

PPAR

Peroxisome proliferator-activated receptor

ROS

Reactive oxygen species
Introduction
According to the World Health Organization, approximately half of the global adult population consumes alcoholic beverages; nevertheless, alcohol consumption represents one of the most important risk factor for public health and the third leading cause of premature death [
1
]. Alcohol use is associated with chronic and acute diseases including several types of cancers, cardiovascular diseases, diabetes, pneumonia, immunologic alterations, liver cirrhosis, and reduced healing after traumatic injury [
2
]. Moreover, alcohol exposure during prenatal gestation determines a wide array of harmful effects on the developing fetus, collectively indicated as fetal alcohol spectrum disorders (FASD). Whether moderate alcohol consumption is potentially preventative against cardiovascular diseases [
3
] is an object of ongoing scientific debate [
4
]. The quantity, type, and quality of the alcoholic beverages and the pattern of drinking habits can modify the effects of alcohol misuse. Moreover, several other factors, such as genetic background, gender, age, ethnicity, diet, hormone status, as well as interactions with additional risk factors such as smoking and obesity, can have an impact on modulating alcohol response [
5
]. In addition, the rate of alcohol metabolism contributes to the development of alcohol-associated diseases. Ingested alcohol is rapidly absorbed throughout the gastrointestinal tract into the bloodstream, and then, the majority (more than 90%) is metabolized in the liver. The most important hepatic ethanol metabolic pathway involves the oxidation by the enzymatic activity of alcohol dehydrogenase (ADH), which converts alcohol to acetaldehyde, and acetaldehyde dehydrogenase (ALDH), which converts acetaldehyde to acetate (Fig. 
1
). As an ultimate step, acetate is further metabolized to carbon dioxide and water before being eliminated from the body. The kinetic of the process may be altered in the presence of different polymorphic variants of these enzymes [
6
]. Overall, alcohol metabolism results in: production of acetaldehyde, which is a known carcinogen; generation of reactive oxygen species (ROS), contributing to oxidative stress; production of acetate, which affects several metabolic processes; and in a significant alteration of the cellular redox balance, in particular through a change of the ratio of the oxidized and reduced forms of nicotinamide adenine dinucleotide (NAD
+
/NADH) [
7
].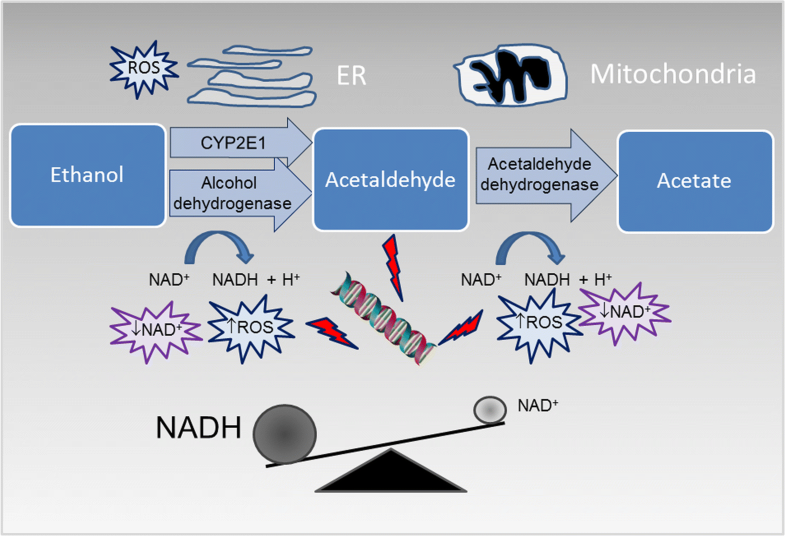 Ethanol has an impact on virtually all tissues, and some effects can persist long after stopping alcohol intake. Growing and developing tissues are remarkably susceptible to alcohol due to incomplete antioxidant protection. In fact, epidemiologic studies have provided evidence that drinking during adolescence can be dangerous for brain development, possibly inducing irreversible damage. Most importantly, alcohol exposure in pregnancy affects embryo development and can cause permanent birth defects. Similarly, early postnatal alcohol exposure might result in immunological and neurological disorders in later life. Accordingly, teen and prenatal alcohol drinking are serious social and health problems with increasing incidence. While the fact that acute and chronic alcohol abuse severely damages tissue and organ functions is well-established, only recently the role of ethanol exposure in deteriorating stem-cell properties has been investigated. Different organs of an individual may have different sensitivities to alcohol. The hypothesis that ethanol has nefarious consequences on stem cells in different tissues is consistent with alcohol's widespread, long-term effects observed in the developing and adult human organisms.
Evidence of direct toxicity of ethanol and/or its metabolites on stem and progenitor cells in different tissues offers a new perspective on the biological consequences of alcohol intake (Fig. 
2
). Accordingly, due to the profound perturbation of alcohol on stem-cell biology in the developing fetus, Mahnke et al. have provocatively proposed to classify FASD as a "stem cellopathy" [
8
]. However, the exact mechanisms causing ethanol deleterious effects remain to be completely investigated. Alcohol susceptibility may depend on the target cell and may be influenced by the dose and duration of exposure. Adult stem cells reside in a quiescent state in specialized niches within multiple different tissues. In response to an injury stem cells are able to exit quiescence, renew themselves and differentiate into different cell types [
9
]. The maintenance of quiescence for a prolonged period of time is functional to preserve stem-cell proliferative potential and genomic integrity throughout the lifetime of the organism. On the other hand, long-lived stem cells are continuously exposed to endogenous and exogenous genotoxic agents, leading to accumulation of DNA damage. Accumulating evidences, suggest that alcohol may impact key aspect of stem cell biology, such as the function of the niche, maintenance of potency and differentiation. In the following sections, we review the main studies describing the effects of alcohol on different types of stem cells (Table 
1
).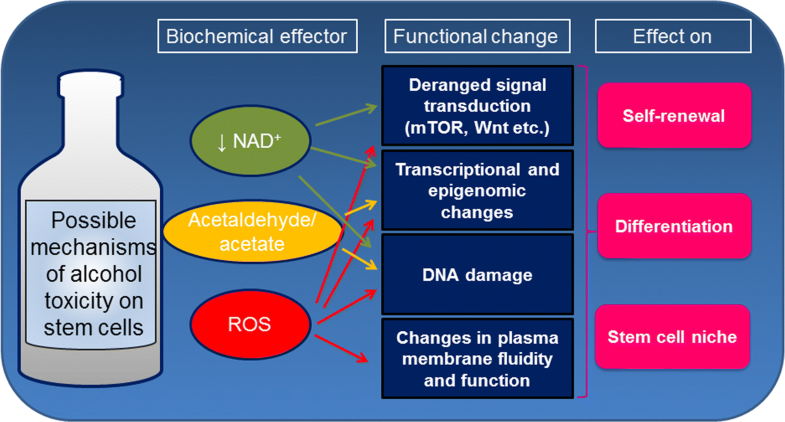 Table 1
Effects of alcohol on stem cells
| Cell type | Observed changes | Main references |
| --- | --- | --- |
| Neural progenitors cells | Reduced proliferation; effects on cell fate determination | |
| Hepatic stem cells | Reduced proliferation; promotion of mesenchymal transition | [43] |
| Intestinal stem cells | Decreased the expression of stem cell markers, | [46] |
| BM-derived MSC | Reduced osteogenic differentiation; adipogenic effect; induction of senescence | |
| Dental pulp stem cells | Dysregulation of odontogenic/osteogenic differentiation. | |
| Adventitial progenitor cells | Decreased proliferation; reduced myogenic differentiation | [69] |
| Embryonic stem cells | Inhibition of differentiation; apoptosis induction | |
| Hematopietic progenitors | Effects on cell fate determination; DNA damage | |
| Cancer stem cells | Phenotypic changes; microenvironmental alterations. | |
Effects of alcohol on different types of stem cells
Alcohol toxicity on stem cells: in search for molecular mechanisms
Despite intensive research, the mechanisms leading to alcohol toxicity are still largely unclear. In the following sections, we review the main putative mechanisms by which alcohol might exert negative effects on stem cells (Fig. 2).
Conclusions
Emerging evidence for the impact of ethanol on stem and progenitor cells has added a new layer of biological complexity to our understanding of how alcohol misuse affects adult and developing tissues and especially fetal brain. However, the underlying biochemical mechanisms appear manifold, complex and overall incompletely identified. Hopefully, intense research aimed at delineating the pathogenic molecular interactions that link ethanol intake to stem-cell damage will in the next few years provide the immediate benefit of uncovering the processes leading (or at least contributing) to alcohol toxicity. This will be in turn instrumental to develop novel therapeutic strategies to reverse or prevent the effects of alcohol intoxication.
Notes
Acknowledgements
The work was supported by ERAB: the European Foundation for Alcohol Research (Grant # EA 17 19 to G.T.). We gratefully acknowledge also Ministero della Salute (Ricerca Finalizzata Grant # RF-2011-02347907 to G.T.) and Istituto Regina Elena Cinque per Mille (IRE 5x1000 2014).
Compliance with ethical standards
Conflict of interest
The authors declare that they have no conflict of interest.
Copyright information
© The Author(s) 2018
Open AccessThis article is distributed under the terms of the Creative Commons Attribution 4.0 International License (http://creativecommons.org/licenses/by/4.0/), which permits unrestricted use, distribution, and reproduction in any medium, provided you give appropriate credit to the original author(s) and the source, provide a link to the Creative Commons license, and indicate if changes were made.