Abstract
Objective
Interleukin-4 (IL-4) is a multifunctional cytokine involved in many diseases such as autoimmune hepatitis and idiosyncratic drug reactions. However, its role in acetaminophen (APAP)-induced liver injury remains unclear. Our objective was to evaluate the contribution of IL-4 to the pathogenesis of APAP-induced liver injury.
Methods
Balb/C (WT) and IL-4 knockout (IL-4−/−) mice were orally overdosed with APAP. After 24 h, survival percentage, biochemical and morphological markers of liver injury, and tissue inflammation were assessed.
Results
IL-4−/− mice were protected from APAP toxicity. Intravital confocal microscopy, tissue histology and serum ALT levels showed significantly less liver injury and inflammation than in the WT group, which may explain the increased survival rate of IL-4−/− mice. In addition, IL-4−/− mice had decreased production of tumor necrosis factor α, CXCL1 and interleukin-1β in the liver, but not in a remote site such as the lungs. Hepatic macrophage activation was markedly reduced in IL-4-deficient mice. In addition, glutathione depletion—a primary cause of APAP-mediated injury—was significantly attenuated in IL-4−/− mice.
Conclusions
Taken together, our data demonstrate that IL-4−/− mice are protected from APAP-induced liver injury due to reduced depletion of glutathione, which prevented liver damage and tissue inflammation.
This is a preview of subscription content, log in to check access.
Access options
Buy single article
Instant unlimited access to the full article PDF.
US$ 39.95
Price includes VAT for USA
Subscribe to journal
Immediate online access to all issues from 2019. Subscription will auto renew annually.
US$ 99
This is the net price. Taxes to be calculated in checkout.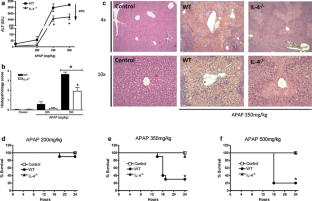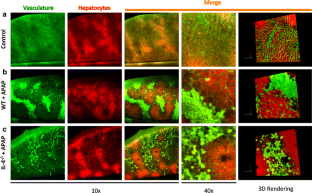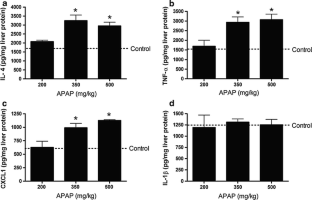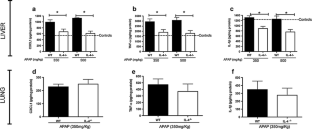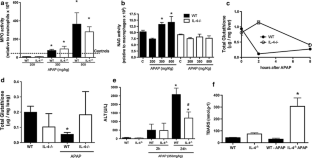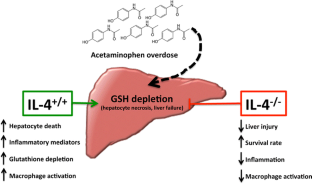 References
1.

Bernal W, Auzinger G, Dhawan A, Wendon J. Acute liver failure. Lancet. 2010;376:190–201.

2.

Imaeda AB, Watanabe A, Sohail MA, Mahmood S, Mohamadnejad M, Sutterwala FS, et al. Acetaminophen-induced hepatotoxicity in mice is dependent on Tlr9 and the Nalp3 inflammasome. J Clin Invest. 2009;119:305–14.

3.

Hinson JA, Roberts DW, James LP. Mechanisms of acetaminophen-induced liver necrosis. Handb Exp Pharmacol. 2010;196:369–405.

4.

Marques PE, Amaral SS, Pires DA, Nogueira LL, Soriani FM, Lima BH, et al. Chemokines and mitochondrial products activate neutrophils to amplify organ injury during mouse acute liver failure. Hepatology. 2012;56:1971–82.

5.

Nelms K, Keegan AD, Zamorano J, Ryan JJ, Paul WE. The IL-4 receptor: signaling mechanisms and biologic functions. Annu Rev Immunol. 1999;17:701–38.

6.

Higuchi S, Kobayashi M, Yano A, Tsuneyama K, Fukami T, Nakajima M, et al. Involvement of Th2 cytokines in the mouse model of flutamide-induced acute liver injury. J Appl Toxicol. 2012;32:815–22.

7.

Kobayashi M, Higuchi S, Ide M, Nishikawa S, Fukami T, Nakajima M, et al. Th2 cytokine-mediated methimazole-induced acute liver injury in mice. J Appl Toxicol. 2012;32:823–33.

8.

Kaneko Y, Harada M, Kawano T, Yamashita M, Shibata Y, Gejyo F, et al. Augmentation of Valpha14 NKT cell-mediated cytotoxicity by interleukin 4 in an autocrine mechanism resulting in the development of concanavalin A-induced hepatitis. J Exp Med. 2000;191:105–14.

9.

Nishikage T, Seki S, Toyabe S, Abo T, Kagata Y, Iwai T, et al. Inhibition of concanavalin A-induced hepatic injury of mice by bacterial lipopolysaccharide via the induction of IL-6 and the subsequent reduction of IL-4: the cytokine milieu of concanavalin A hepatitis. J Hepatol. 1999;31:18–26.

10.

Ryan PM, Bourdi M, Korrapati MC, Proctor WR, Vasquez RA, Yee SB, et al. Endogenous interleukin-4 regulates glutathione synthesis following acetaminophen-induced liver injury in mice. Chem Res Toxicol. 2012;25:83–93.

11.

Bourdi M, Eiras DP, Holt MP, Webster MR, Reilly TP, Welch KD, et al. Role of IL-6 in an IL-10 and IL-4 double knockout mouse model uniquely susceptible to acetaminophen-induced liver injury. Chem Res Toxicol. 2007;20:208–16.

12.

Noben-Trauth N, Kohler G, Burki K, Ledermann B. Efficient targeting of the IL-4 gene in a BALB/c embryonic stem cell line. Transgenic Res. 1996;5:487–91.

13.

Liu ZX, Han D, Gunawan B, Kaplowitz N. Neutrophil depletion protects against murine acetaminophen hepatotoxicity. Hepatology. 2006;43:1220–30.

14.

de Matos OG, Amaral SS, Pereira da Silva PE, Perez DA, Alvarenga DM, Ferreira AV, et al. Dietary supplementation with omega-3-PUFA-rich fish oil reduces signs of food allergy in ovalbumin-sensitized mice. Clin Dev Immunol. 2012;2012:236564.

15.

Tietze F. Enzymic method for quantitative determination of nanogram amounts of total and oxidized glutathione: applications to mammalian blood and other tissues. Anal Biochem. 1969;27:502–22.

16.

Amaral SS, Oliveira AG, Marques PE, Quintao JL, Pires DA, Resende RR, et al. Altered responsiveness to extracellular ATP enhances acetaminophen hepatotoxicity. Cell Commun Signal. 2013;11:10.

17.

Li FC, Huang GT, Lin CJ, Wang SS, Sun TL, Lo SY, et al. Apical membrane rupture and backward bile flooding in acetaminophen-induced hepatocyte necrosis. Cell Death Dis. 2011;2:e183.

18.

Ajuebor MN, Hogaboam CM, Le T, Swain MG. C–C chemokine ligand 2/monocyte chemoattractant protein-1 directly inhibits NKT cell IL-4 production and is hepatoprotective in T cell-mediated hepatitis in the mouse. J Immunol. 2003;170:5252–9.

19.

Jaruga B, Hong F, Sun R, Radaeva S, Gao B. Crucial role of IL-4/STAT6 in T cell-mediated hepatitis: up-regulating eotaxins and IL-5 and recruiting leukocytes. J Immunol. 2003;171:3233–44.

20.

Njoku DB, Li Z, Washington ND, Mellerson JL, Talor MV, Sharma R, et al. Suppressive and pro-inflammatory roles for IL-4 in the pathogenesis of experimental drug-induced liver injury. Eur J Immunol. 2009;39:1652–63.

21.

Palumbo ML, Canzobre MC, Pascuan CG, Rios H, Wald M, Genaro AM. Stress induced cognitive deficit is differentially modulated in BALB/c and C57Bl/6 mice: correlation with Th1/Th2 balance after stress exposure. J Neuroimmunol. 2010;218:12–20.

22.

Lu Y, Sjostrand M, Malmhall C, Radinger M, Jeurink P, Lotvall J, et al. New production of eosinophils and the corresponding TH1/TH2 balance in the lungs after allergen exposure in BALB/c and C57BL/6 mice. Scand J Immunol. 2010;71:176–85.

23.

Falcone M, Rajan AJ, Bloom BR, Brosnan CF. A critical role for IL-4 in regulating disease severity in experimental allergic encephalomyelitis as demonstrated in IL-4-deficient C57BL/6 mice and BALB/c mice. J Immunol. 1998;160:4822–30.

24.

Ito Y, Bethea NW, Abril ER, McCuskey RS. Early hepatic microvascular injury in response to acetaminophen toxicity. Microcirculation. 2003;10:391–400.

25.

Honda M, Takeichi T, Asonuma K, Tanaka K, Kusunoki M, Inomata Y. Intravital imaging of neutrophil recruitment in hepatic ischemia-reperfusion injury in mice. Transplantation. 2013;95:551–8.

26.

Bonder CS, Norman MU, Swain MG, Zbytnuik LD, Yamanouchi J, Santamaria P, et al. Rules of recruitment for Th1 and Th2 lymphocytes in inflamed liver: a role for alpha-4 integrin and vascular adhesion protein-1. Immunity. 2005;23:153–63.

27.

Ishida Y, Kondo T, Kimura A, Tsuneyama K, Takayasu T, Mukaida N. Opposite roles of neutrophils and macrophages in the pathogenesis of acetaminophen-induced acute liver injury. Eur J Immunol. 2006;36:1028–38.

28.

Wang J, Hu Y, Nekvindova J, Ingelman-Sundberg M, Neve EP. IL-4-mediated transcriptional regulation of human CYP2E1 by two independent signaling pathways. Biochem Pharmacol. 2010;80:1592–600.

29.

Abdel-Razzak Z, Garlatti M, Aggerbeck M, Barouki R. Determination of interleukin-4-responsive region in the human cytochrome P450 2E1 gene promoter. Biochem Pharmacol. 2004;68:1371–81.

30.

Lagadic-Gossmann D, Lerche C, Rissel M, Joannard F, Galisteo M, Guillouzo A, et al. The induction of the human hepatic CYP2E1 gene by interleukin 4 is transcriptional and regulated by protein kinase C. Cell Biol Toxicol. 2000;16:221–33.

31.

Langouet S, Corcos L, Abdel-Razzak Z, Loyer P, Ketterer B, Guillouzo A. Up-regulation of glutathione S-transferases alpha by interleukin 4 in human hepatocytes in primary culture. Biochem Biophys Res Commun. 1995;216:793–800.

32.

Vaughn MP, Biswal Shinohara D, Castagna N, Hicks JL, Netto G, De Marzo AM, et al. Humanizing pi-class glutathione S-transferase regulation in a mouse model alters liver toxicity in response to acetaminophen overdose. PLoS One. 2011;6:e25707.

33.

Jaeschke H, Bajt ML. Intracellular signaling mechanisms of acetaminophen-induced liver cell death. Toxicol Sci. 2006;89:31–41.

34.

Aoudjehane L, Podevin P, Scatton O, Jaffray P, Dusanter-Fourt I, Feldmann G, et al. Interleukin-4 induces human hepatocyte apoptosis through a Fas-independent pathway. FASEB J. 2007;21:1433–44.
Acknowledgments
This study was supported by Conselho Nacional de Desenvolvimento Científico e Tecnológico (CNPq), Fundação de Amparo à Pesquisa do estado de Minas Gerais (FAPEMIG/PRONEX), Coordenação de Aperfeiçoamento de Pessoal de Nível Superior (CAPES).
Conflict of interest
The authors do not have any conflict of interests to disclose.
Additional information
D. A. Pires and P. E. Marques contributed equally.
Responsible Editor: Bernhard Gibbs.
Electronic supplementary material
Below is the link to the electronic supplementary material.
Online Resource 2. 3D reconstruction of a liver from a control mouse undergoing confocal intravital microscopy. The hepatic vasculature is labeled by FITC-albumin (green) and the liver cells by Rhodamine 6G (red) (MPG 1546 kb)
Online Resource 3. 3D reconstruction of a liver from an APAP-overdosed wild-type mouse undergoing confocal intravital microscopy. The hepatic vasculature is labeled by FITC-albumin (green) and the liver cells by Rhodamine 6G (red) (MPG 1490 kb)
Online Resource 4. 3D reconstruction of a liver from an APAP-overdosed IL-4 knockout mouse undergoing confocal intravital microscopy. The hepatic vasculature is labeled by FITC-albumin (green) and the liver cells by Rhodamine 6G (red) (MPG 1434 kb)
About this article
Cite this article
Pires, D.A., Marques, P.E., Pereira, R.V. et al. Interleukin-4 deficiency protects mice from acetaminophen-induced liver injury and inflammation by prevention of glutathione depletion. Inflamm. Res. 63, 61–69 (2014) doi:10.1007/s00011-013-0671-7
Received:

Accepted:

Published:

Issue Date:
Keywords
Interleukin-4

Liver injury

Acetaminophen

Glutathione